1 Woman/1 Piece: Luiza Solano
1 Woman/1 Piece: Luiza Solano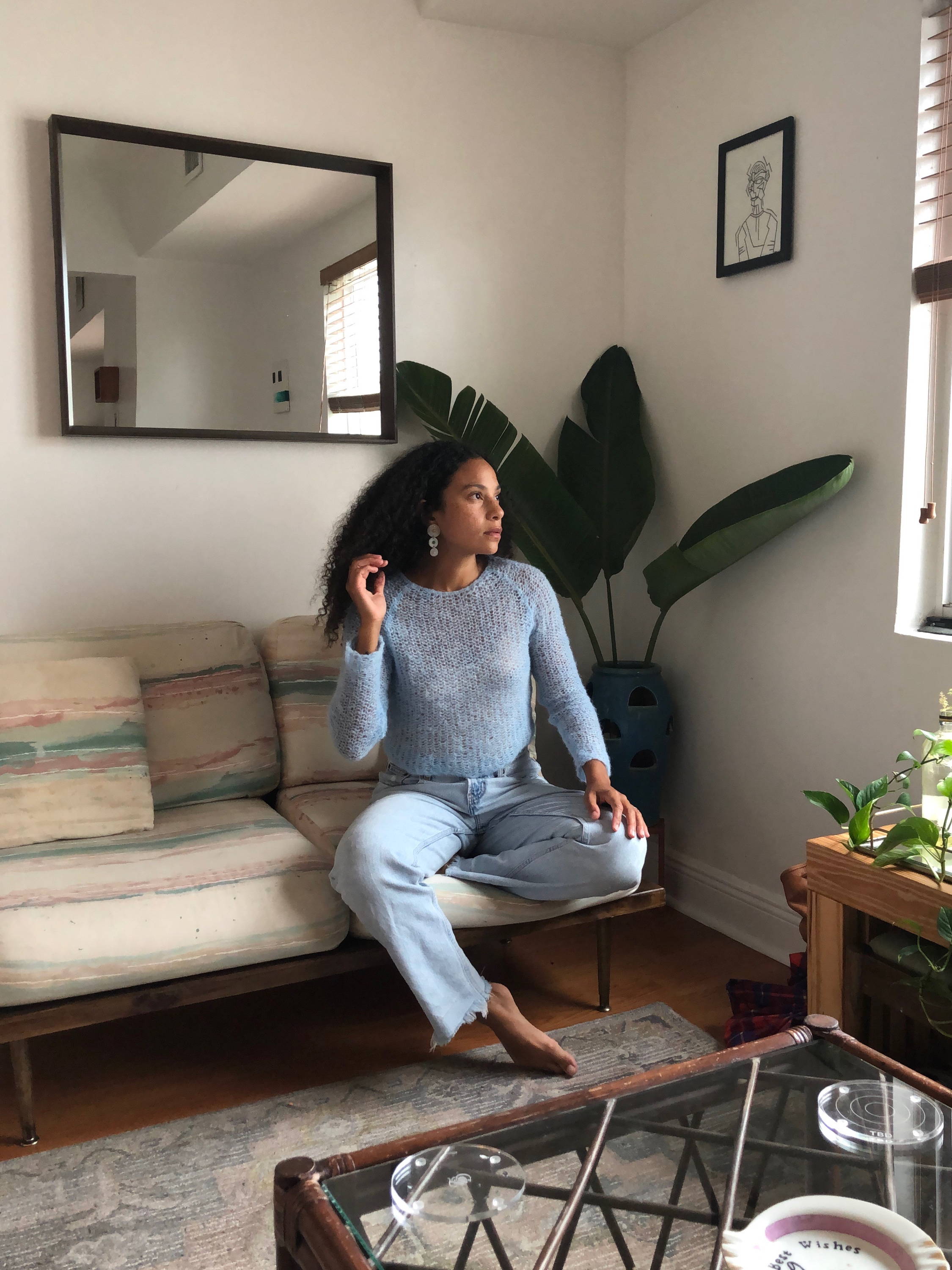 Luiza Solano wears Ayni Lima sweater in Skyway, worn throughout, and her own jeans in her Miami home.
---
Vintage connoisseur. Miami real estate expert. DJ. Luiza Solano, @luizawhoopwhoop on Instagram, is a modern renaissance woman. Businesswoman by day, artist by night, and environmental advocate day in, day out.
---
Luiza a born and raised Miami woman. After a stint at FSU to get a degree in fashion merchandising she hightailed it out of Florida and took up a residence in the Big Apple. What started as a move for internship in styling led to six years of Luiza's life living and breathing the New York fashion landscape. Effortlessly stylish, she's become a go-to resource for vintage fashion finds, and astounding electronic music. Now in Miami, Luiza sells vintage finds through her company @almostalwaysvintage, curates a killer Spotify playlist, and works in one of the world's most exciting real estate markets. She wanted to try the Lima sweater from Ayni, and although it's not vintage, it fits in perfectly with the rest of her subtle and terribly sophisticated wardrobe.
In three words, how would you describe your aesthetic?
Conscious, Chill, Chic
Who is your fashion icon of the moment?
I appreciate individual style so my fashion icons are anyone dressing for themselves, doing their thing, and owning it!
Where would you wear this piece?
I'd wear this sweater to a rooftop happy hour during a breezy spring day or on a movie date over a silky slip dress. I'd also rock it to work, paired with high waist pants or a flowy skirt. Vintage denim and a sweater is also a great go-to so add that to the list too!
What are you reading right now?
I just started "Hood Feminism: Notes from the Women That a Movement Forgot" by Mikki Kendall.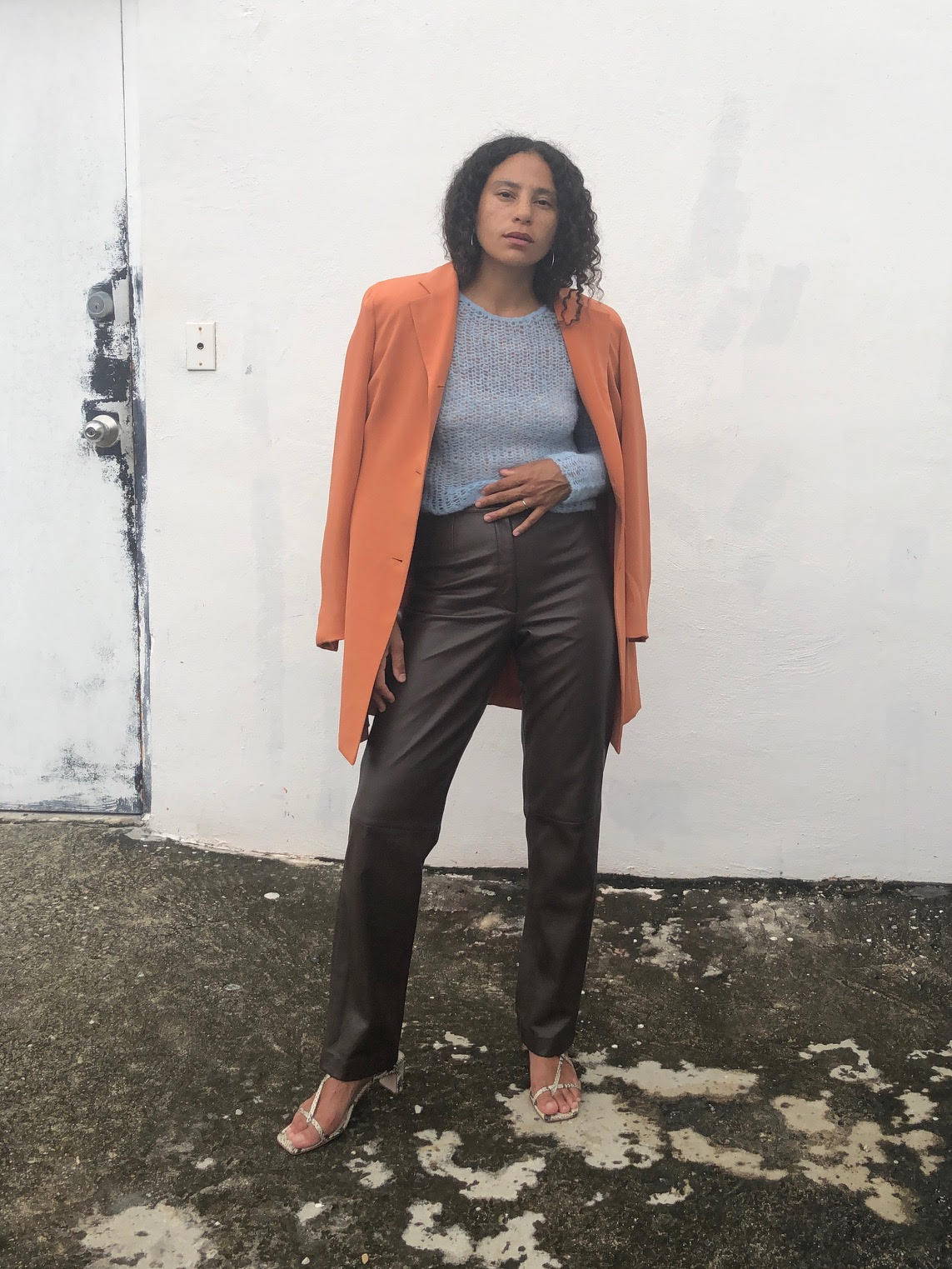 Luiza pairs the Lima sweater with her own skirt for a date night, and leather pants and a blazer for some after work drinks.
What's your go to Spotify playlist for good vibes?
Mine! :) There are 5 of them. You can search Luiza Solano on Spotify or use this link: Spotify
What is your favorite thing to do in the summer?
I bought a bike and an inflatable kayak during quarantine and have added both to my regular routine. I love going on bike rides through neighborhoods like Coconut Grove and Morningside, they're so lush and peaceful. And the kayak has been such an awesome way to get a taste of the ocean while avoiding the crowds.
What is your favorite fashion film?
Documentaries are my thing. I'm always interested in gaining insight into a designer's story, philosophy, and creative process, or getting a behind-the-scenes peek into building a brand, putting together a show, etc. "The Eye Has to Travel" is a great one. I loved "7 Days Out" too. "The True Cost" is another really informative doc that pulls back the curtain of the fashion/apparel industries and sheds light on the human and environmental exploitation that occurs in order to keep up with mass production and consumption.


---