Get To Know: Norte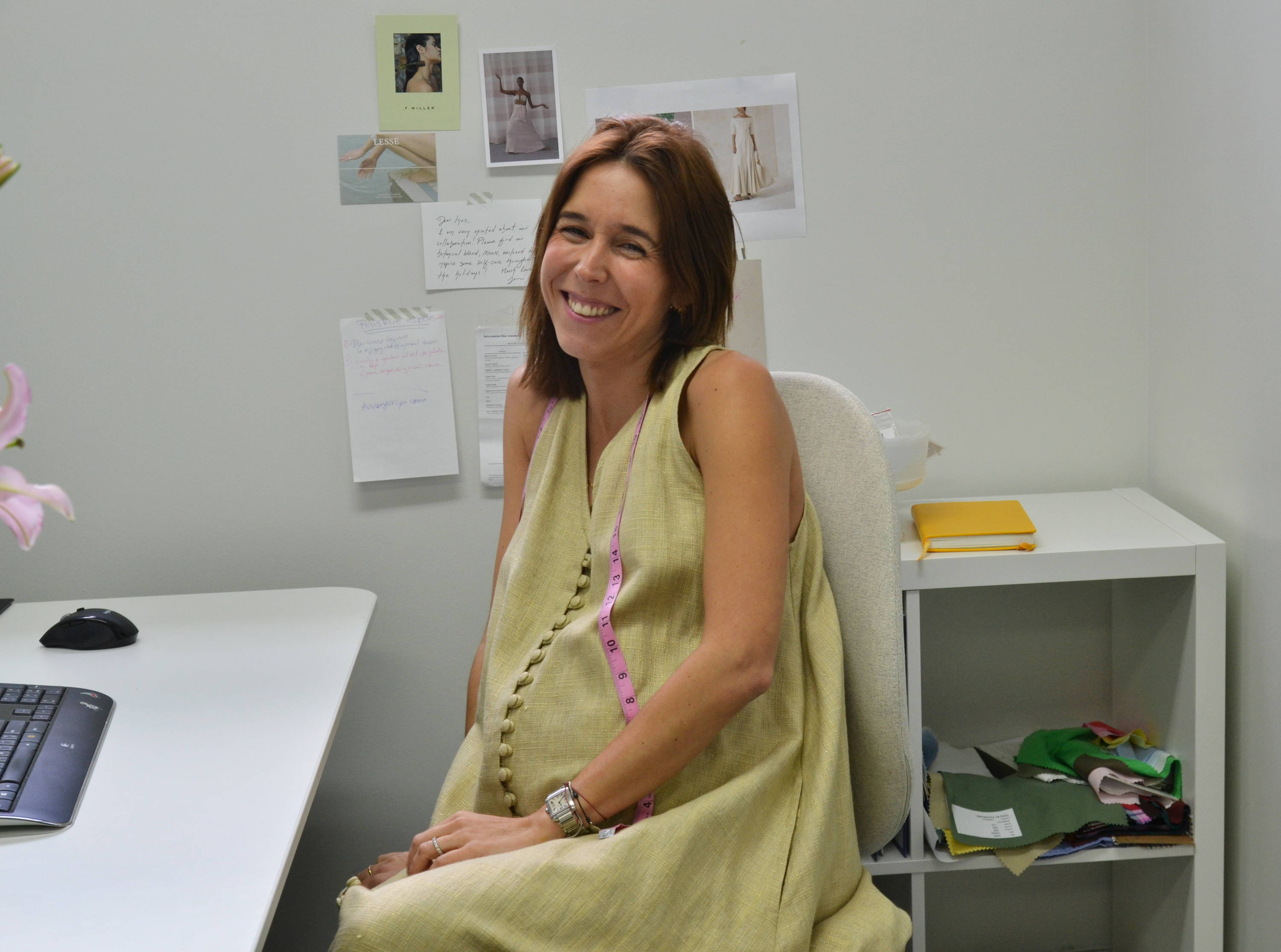 ---
Ines Vieria Varela is on the verge of something big. Only a handful of years after leaving her life as a corporate buyer to start Norte, Ines is about to give birth to a new child! In fact, by the time our interview is published, the Varela brood may be a little bit bigger.
---
Taking on a baby and a new business, essentially another small child, is no easy feat. We applaud and admire the women and men who can do it with as much pluck as Ines. Each day, she rises to the challenges of growing her business without ever compromising the integrity of her garments, principles, or our environment. We asked Ines to be photographed and speak with us mere weeks before her due date, and she obliged ever so graciously. With a mischievous smile and undefined whimsy, she spoke of her childhood and future, and gave us unprecedented access to the charming world of Norte.
Read on below, and dive into Galician summers, Barcelona's alleys, and a closet full of options.
What were summers in Galicia like? I've never had the pleasure of seeing Spain in the season, but I feel like I know what it's like after seeing your Spring line. Can you tell me a bit about what it was like to grow up in coastal Spain?
Summer is my favorite season in Galicia. In winter the area is kind of humid and often grey but in Summer the weather is fantastic. I love how people in Galicia really make the most of every single day because the weather isn't always great the rest of the year. Also given our geographical location, we should be in a different time zone but we are not in order to be in the same time as the rest of Spain, so the sun sets very late. That is why, it is very common to see people swimming in the ocean or enjoying the beach at 9 pm. I believe that the fact that the winters are grey really shapes people's personalities in a good way, making them want to take the most out of the warm, Summer days.
I used to spend my Summers there by the ocean, riding my bike, going to the beach, really taking the most out of every single day. I was never in doors, it was a really healthy and free experience I think.
There is no Gaudism in Norte. How did Barcelona impact your aesthetic, and in turn your brand?
I went to Barcelona at the age of 18 for college and I really loved it there and definitely believe it helped shape my artistic side. My home town, Vigo, is more industrial, so when I arrived at Barcelona I was blown away by the beauty of its architecture. Apart from Gaudi's buildings (or Lluis Domenech i Montaner or Puig y Cadafalch ) the whole city is full of small, really beautiful modernist details everywhere you go. You can see them in smaller buildings, pharmacies and other old stores, not only in the big well-known buildings, so I used to enjoy walking around the city by myself, exploring it freely at my own pace and discovering all these unique modernist details. I think it definitely awoke my curiosity and made me realize how important details are, and I apply these insights to my designs.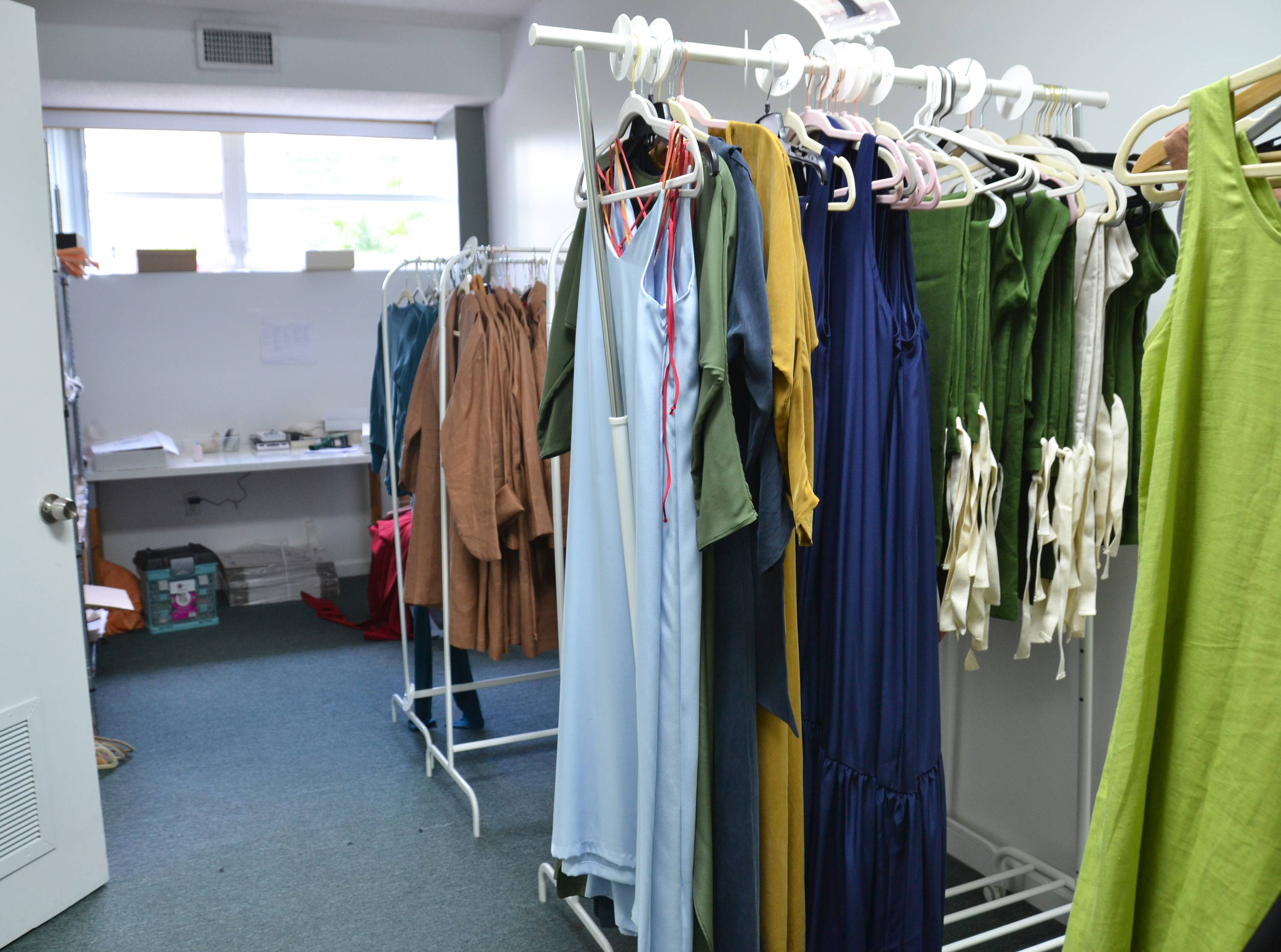 Norte product in the Norte office
Fast fashion is popular in part because of the versatility it offers. What five Norte pieces do you think create the most versatile wardrobe?

We build versatility into almost all our designs, it is one of the pillars of my design process.
-The Finisterre dress, which can be worn with the v neckline in the front or back and casually styled with a leather jacket or dressed up for a wedding with gold sandals and accessories.
-The Cies top, that is reversible too. I have worn it to a wedding with a ruffle skirt and also with jeans to come to the studio.
- Any of the skirts, because the fit is amazing and the fabrics are super breathable but with enough structure to be worn both in summer or winter.
- The Rodas dress. It is super comfortable and fits great to many body types. I have worn it often during my pregnancy and love wearing it with a thick belt (when I am not pregnant).
A new piece that is coming very soon, stay tuned!
What sustainable practices were part of your upbringing? How have they moved with you through life and into your business?
To be honest, we did not know that much about sustainable living 25 years ago but I like seeing that despite that, we were already applying sustainability practices. For example I remember we would have our clothes altered and mended as we grew. We did not have as many pieces as kids have today but my mother always got us very special pieces made with unique durable fabrics that last forever. For example, I have a lot of my old dresses ready for my daughter when she is born, and they are more than 30 years old!
What low-impact manufacturing process have you come across that's exciting you right now?
I love the concept of producing with pre orders because even though it is a simple idea that should not be hard to apply, it creates a lot less waste.
What upcycled fabric is your favorite to use? Are there any new upcycling trends that we should expect to see on our consumption tags in the future?
I love recycled cotton because it has a beautiful rustic and natural look while being super strong and durable. Recycled denim should definitely gain popularity, we found an amazing supplier from Guatemala which we are very excited about.
What does the intersection of modernism, minimalism, and environmentalism look like for you outside of Norte?
For me it is about making rational choices and being consistent. I do not buy a lot of stuff because I honestly do not want clutter around me. I buy a little but from brands that resonate with me and that feel consistent and committed. That applies to all areas of my life including clothing, kids toys and even the tools I use in my kitchen.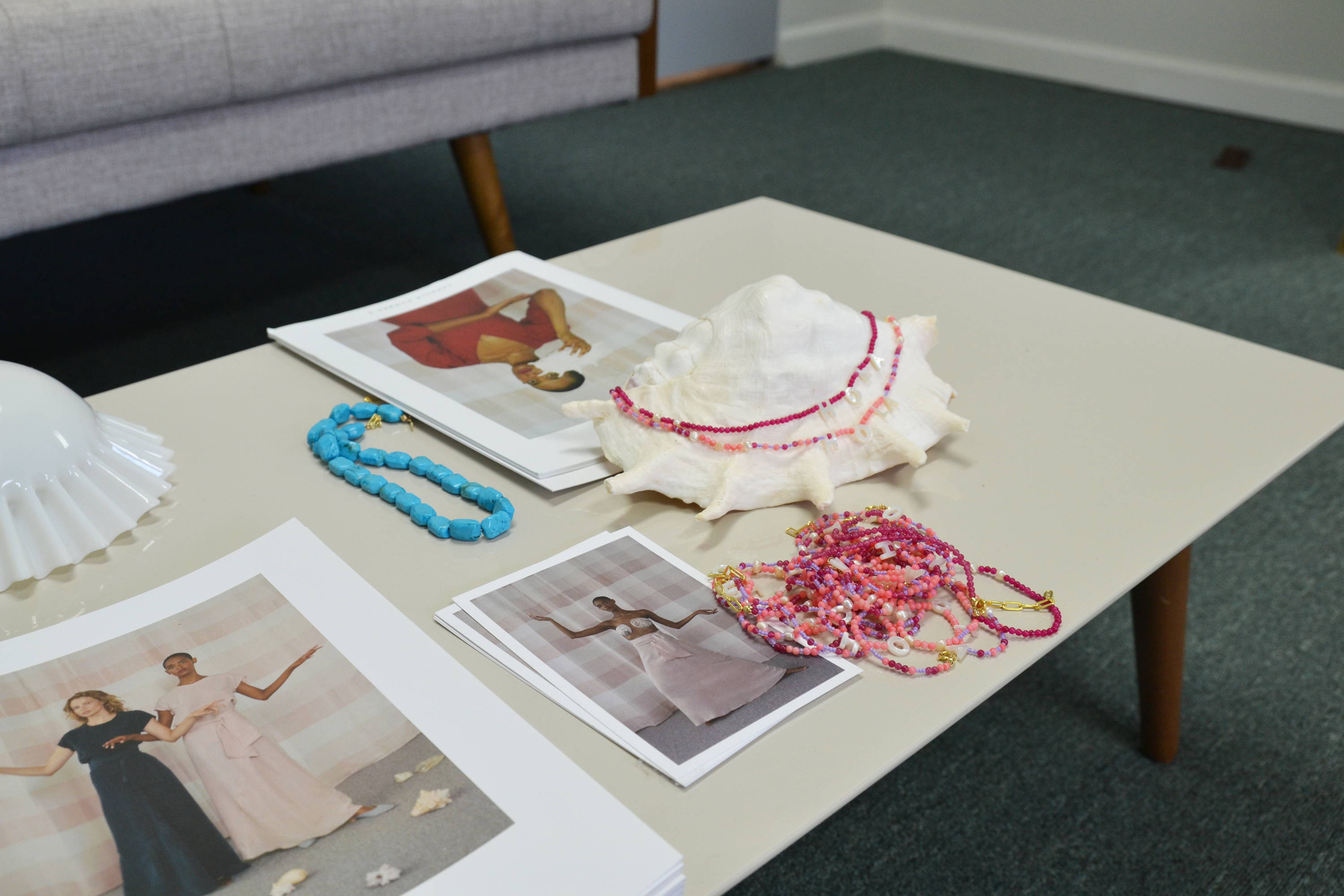 Norte office in Miami, FL
What conversation do you think we should all have more this year?
In the era of Instagram and perfectly curated lives I miss honesty and realness. I just read an article this morning at Fast Company from Audrey Gellman (CEO and Founder of The Wing) about what she got wrong and it felt so inspiring and refreshing. I believe that you can be strong and vulnerable and that is absolutely ok. Let's talk more about that this year.
What do you hope your forthcoming child thinks about you when they're your age now?
What a great question to reflect about! I love how my mother has always been able to make me always look at the bright side and make my problems seem always smaller because I think that helps you be happier and stronger, I hope I can do the same with her. I also hope she admires me at an intellectual level and she is inspired by the idea of building a business based on sustainability.
What do you think about daily uniforms? Do you have one?
For me getting dressed is an exciting game that I like playing every morning and brings me joy. But at the same time I love the idea of a "uniform" for whenever you are more in a rush and because to me it means a formula that I know works well with my body and makes me feel good. One of my uniforms is the Cies top plus high waisted jeans plus a pair of fun colorful shoes.
This interview took place before the current self-isolation measures taken to prevent the spread of Covid-19 as of April 8, 2020. The following is an answer given on April 7, 2020, after the initial interview.
What has your experience with Covid-19 been like?
My Covid experience is very intense in every possible way. I have a daughter that was born March 6th, so right now we are at home with her, my very active toddler, without school and no help. Finding time to work (even if it's just an hour) every day is a real challenge and that is definitely adding a lot of stress to the situation because as a small business I wear most of the hats. I am trying to stay calm and think that this situation is for sure going to make all of us stronger.
As told to: James Francis Kelley

Photos: Sophie Zembra
---