Antidote on the Road with Vida's Sofia Carrasquillo
ANTIDOTE on the Road
with Vida's Sofia Carrasquillo

Sofia Carrasquillo wears Ayni's Jordon top in ivory, and Faithfull the Brand's Toulon bottoms while taking a travel break in Green River, UT
---
In August of 2019 a very different Sofia Carrasquillo and Rudy Duboue bought a bus. Not an average yellow and black behemoth that used to take children to school, but a smaller, more compact vehicle – the Skoolie. The Skoolie was once used to transport tot teams of gymnists to and from competitions, just enough space for the couple to live in for a few days once the appropriate adjustments were made. The flight attendant/model and her photographer boyfriend were planning a trip, cross-country, and began to spruce up their soon-to-be mobile home/office. This wasn't an easy task given Sofia's work schedule. Three weeks in the air, one grounded, repeat. But, they made it happen. One list of priority buildout items, a budget, an itch for change, and a "heading out" date far off in 2020 were all they needed. They'd see the world, then.
---
It was time to escape. Once April 2020 came around, Sofia and Rudy would pack up the '01 Skoolie, bid their co-workers temporary adieus, and set course due west. The trip wasn't planned without hesitations. Where would they sleep? What if they argued? The need to connect with Earth, perhaps each other, too, was stronger than their trepidations. 2020 hit and they were excited as all to get on the road. Then came March.
Then, April. April came. April went. Skoolie stayed put in Miami. As did Sofia. As did Ruby. As did the itch to see something new. In fact, it itched more than ever. Thankfully, after the year and a half that was March and April, 2020, June wasn't too far off.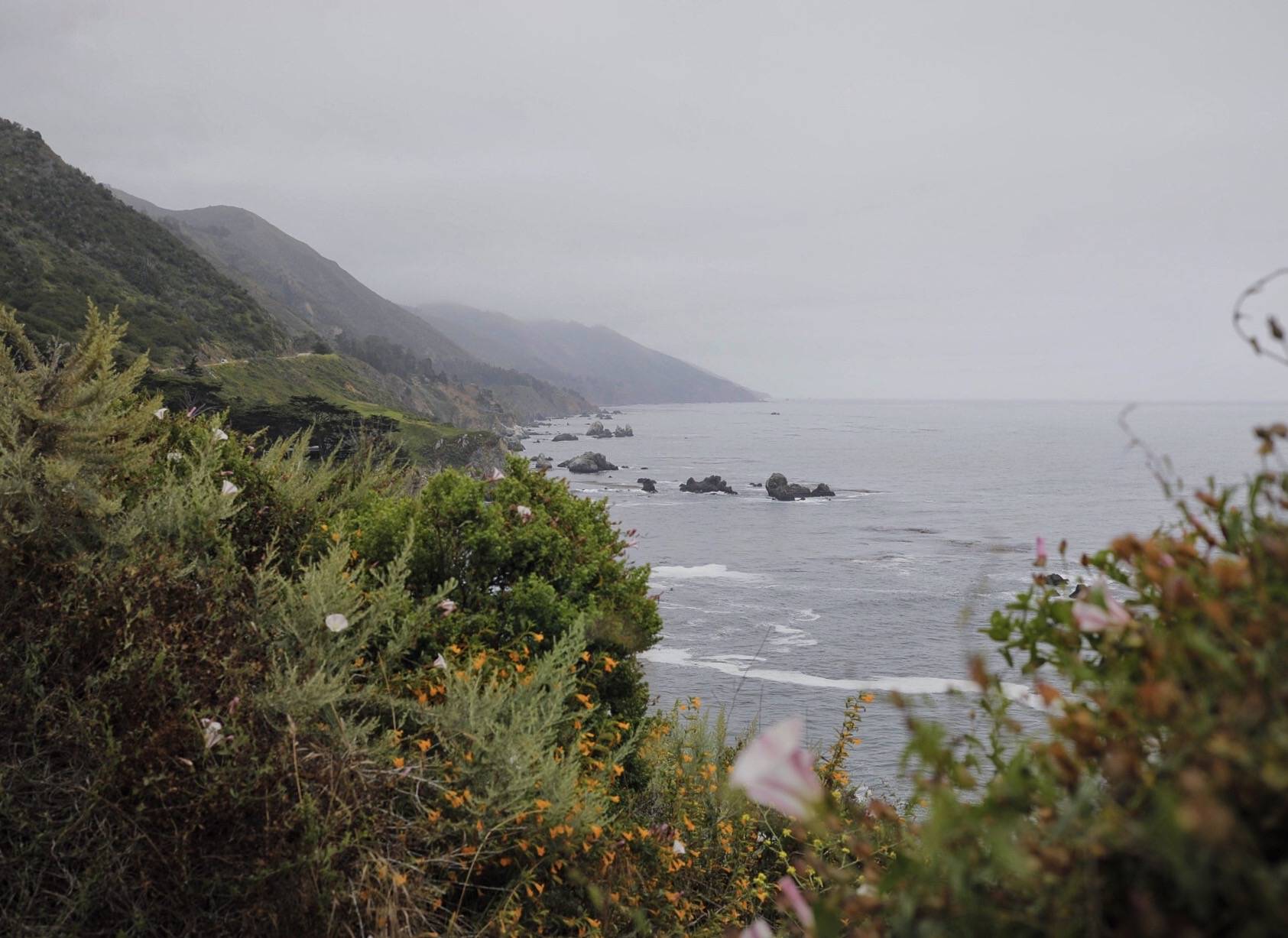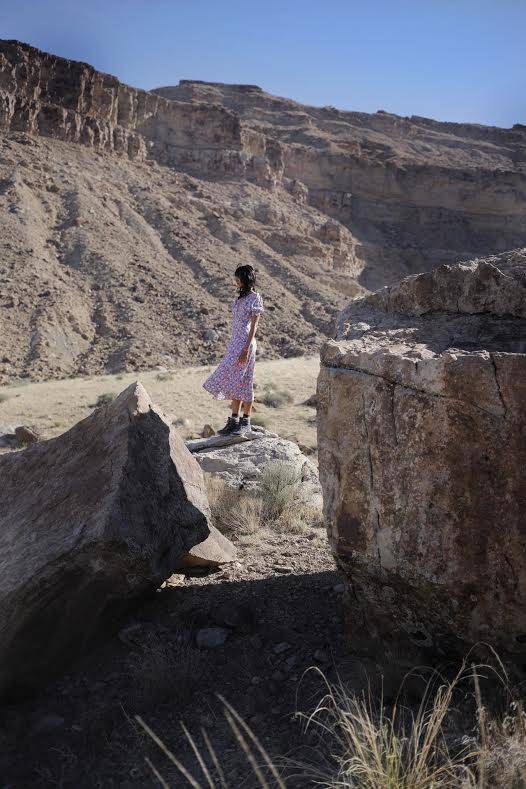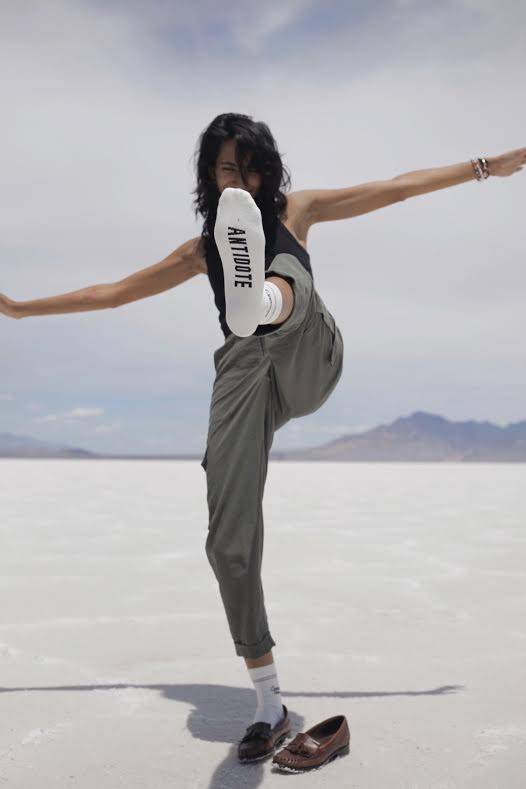 Sofia wears Faithfull the Brand's Marie-Louise Midi Dress and her own boots
In Bonneville Salt Flats, UT, Sofia kicks off her loafers in Antidote's Common Sense Socks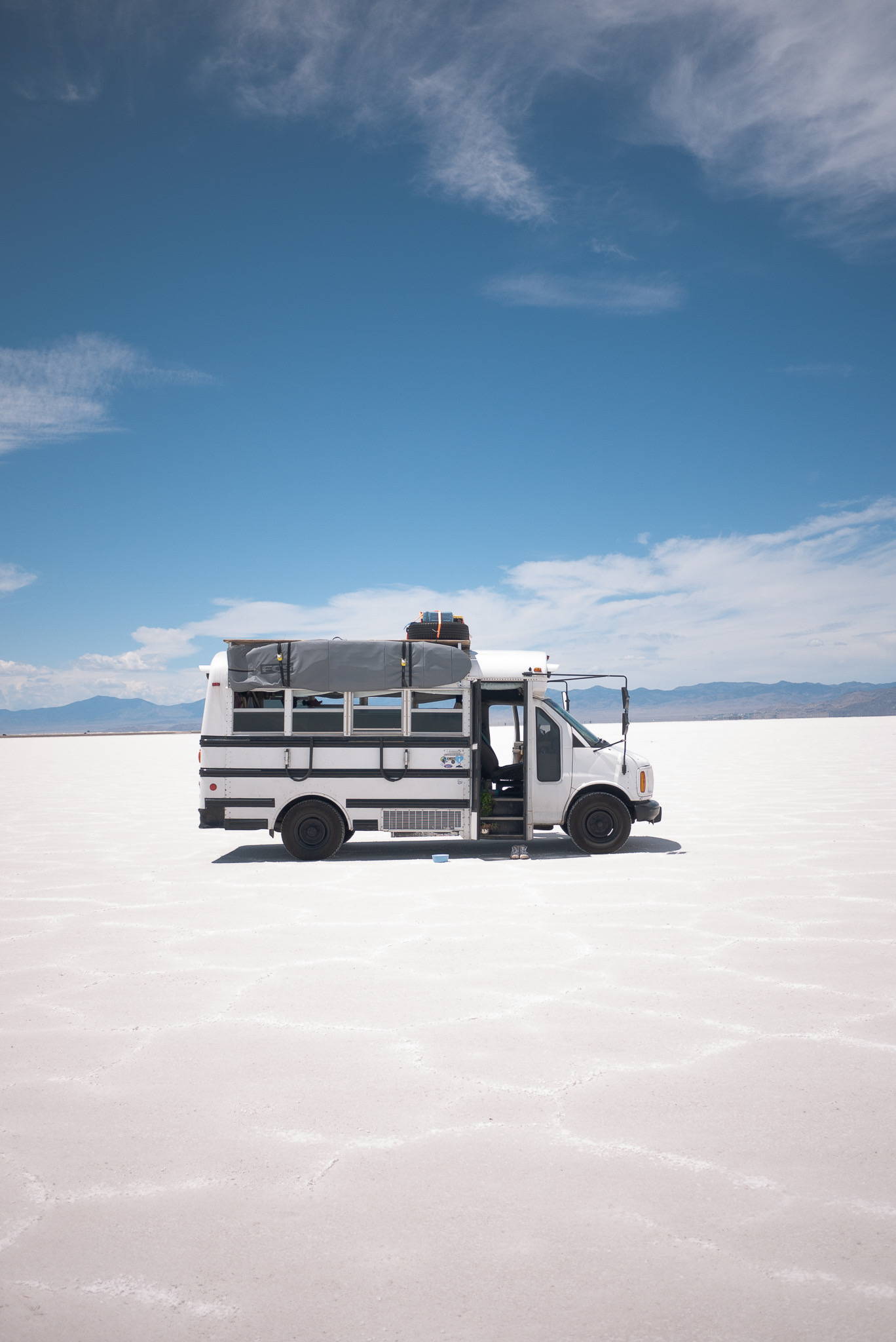 Soaring gas prices. Bumper to bumper traffic. Interpersonal turmoil erupting on the interstate. All of these could have happened during Sofia and Rudy's 20 day sojourn from Miami to San Diego, but none did. Instead, after leaving on June 15, the couple started to save money. They didn't have to pay rent when parking on the side of the road. They forgot about all of their Plan B's (for money problems, couple's problems, Covid19 problems, etc.) because Plan A played out so well. Scenic routes almost always won over interstates or highways. The couple marveled at the beauty they saw and kindness they felt as they crossed over 11 states on the East Coast, in the South, the Mid West, and the West Coast. Kindness and encouragement came from all walks of life. If it weren't for the masks on the street, relentless news feeds, and restrictions here and there, a stranger in their shoes may not know what wild times they were driving through.
It wasn't like the trip didn't have the typical cross-country road trip challenges that any daydreamer imagines instantly when the subject is brought up. Skoolie used a lot of gas. The couple had to pull over a few times to let it cool down. Hills weren't its thing. But, on the other side of that fantasy, the country was magnificent. Green River, UT, Boulder, CO, and Big Sur, CA were among some of their favorite spots – although it would be hard to call any of their stops "bad". "You are literally on the edge of the west with a vast diverse land behind you," says Sofia of Big Sur. "It's hard to wrap my head around that." Hard, but not impossible. Nor was it impossible for Sofia and Rudy to find a work/life balance through those 20 days of on-road bliss.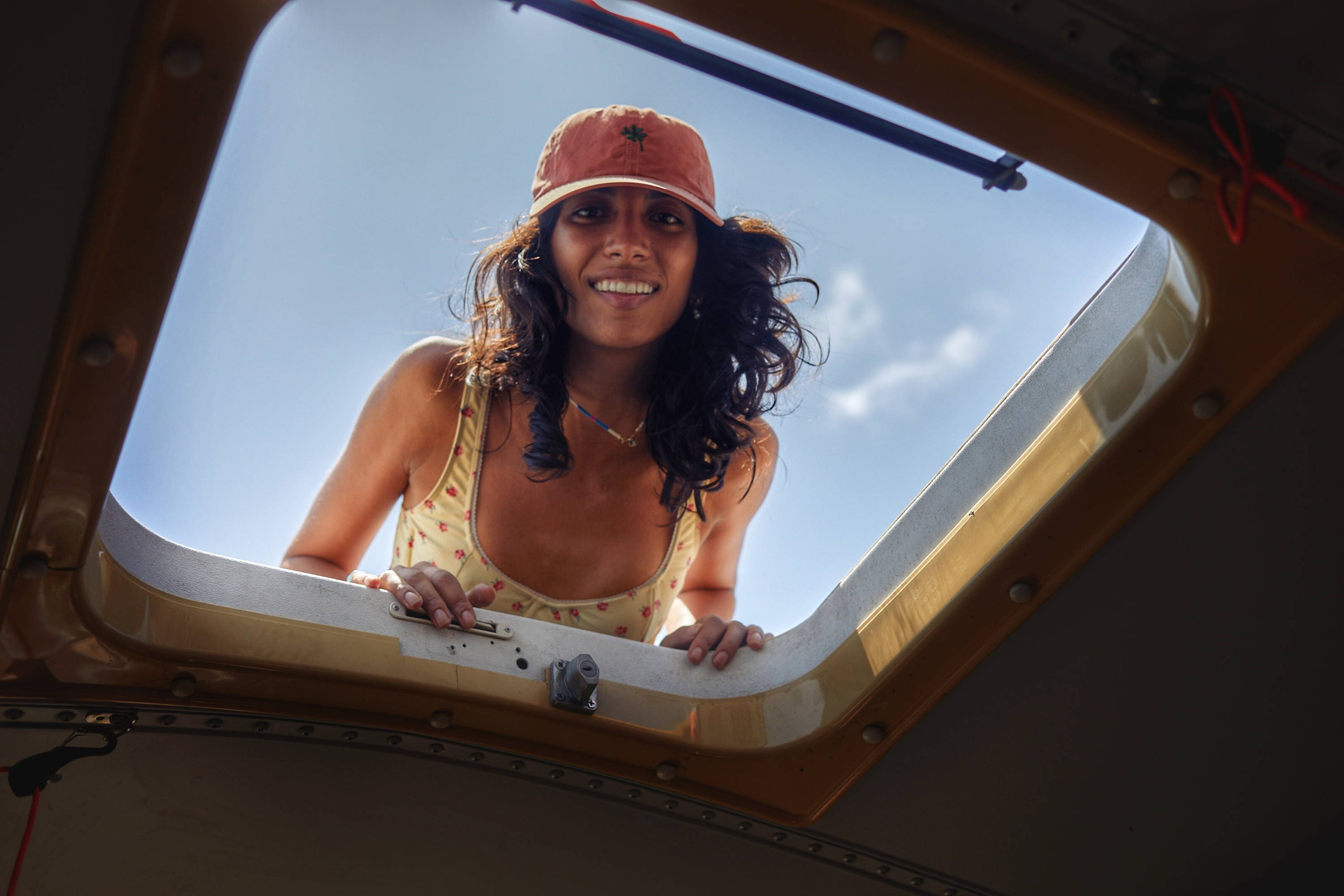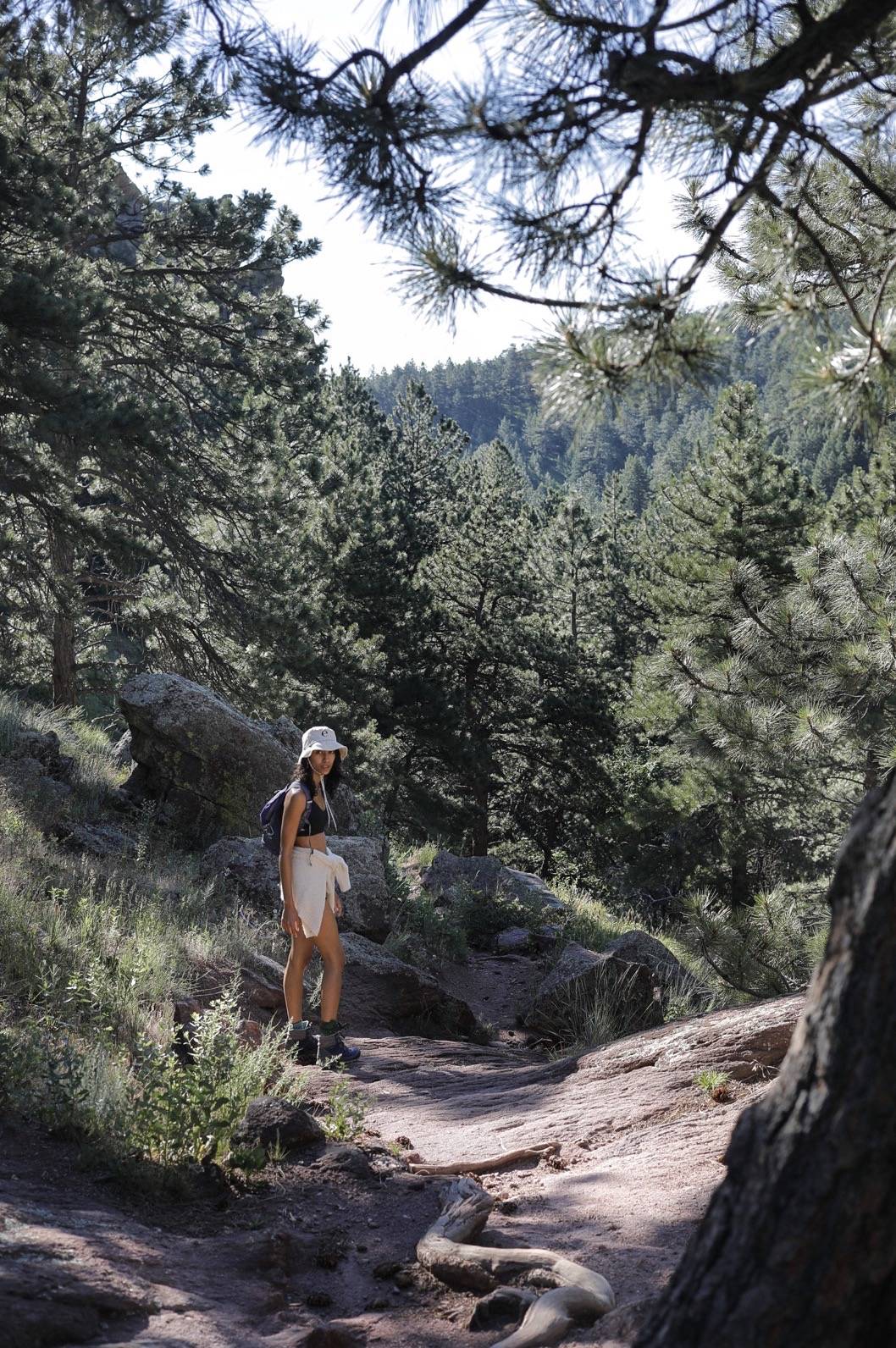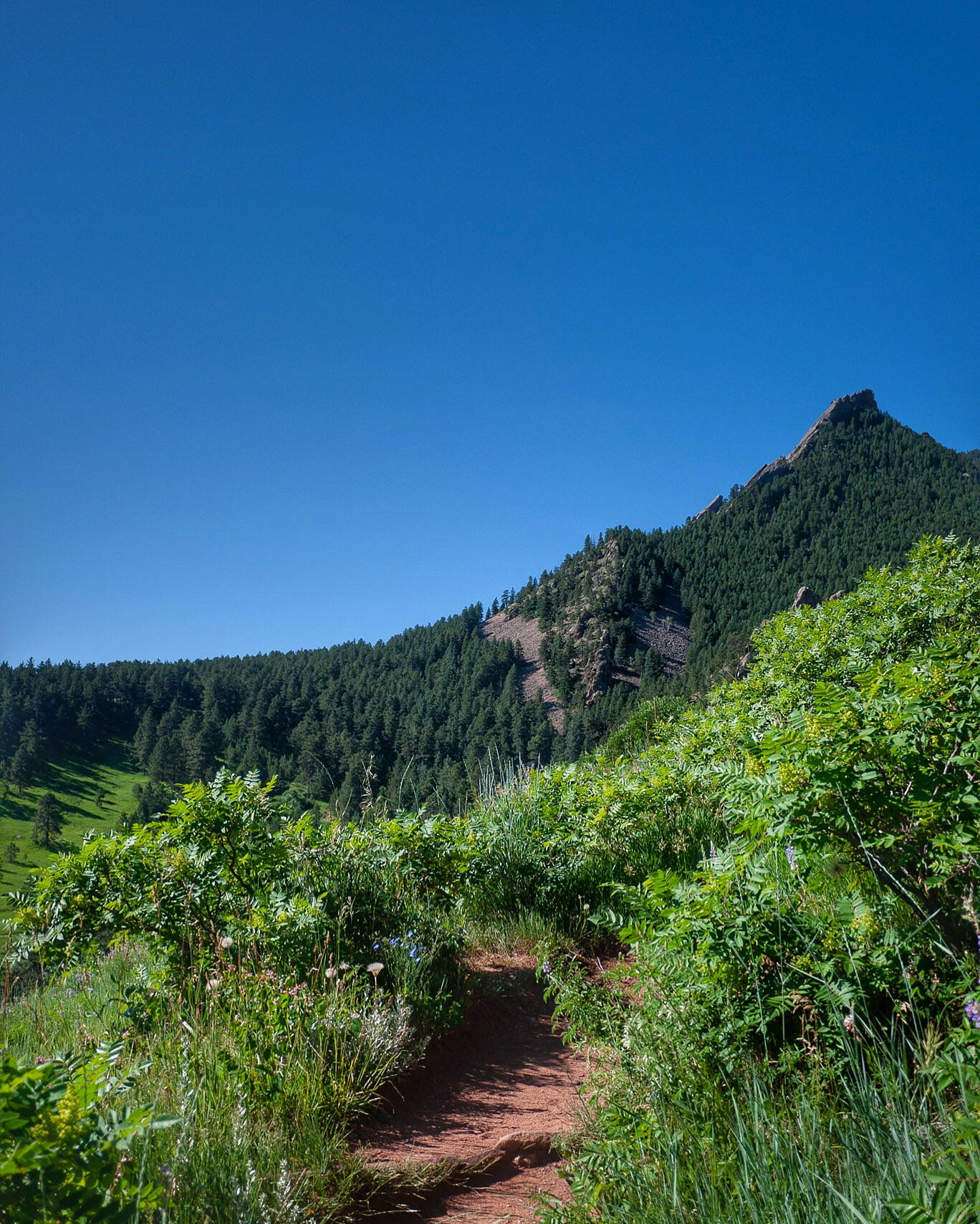 "During our trip, work became very much infused with our experience, making 'balancing' our lives almost a flow." Sofia focused on her modeling career while Rudy dedicated himself to his photography. As one can see from the shots we've obtained, both clearly have something special. And though Sofia has gone back to attending flights, she's created a schedule that suits the life she wants to have, not the other way around. "Now, I give myself two weeks off each month and work for one or two weeks. I choose to live my balance, not work towards a balanced future."
Taking in the scenery. Sofia wears Faithfull the Brand's Toulon top and bottom in the middle of Utah's strangest summer
The road taught our adventurous couple many things about balance, life, busses. There's a whole van life world out there with so much to offer, and they're ready to take it. Rent-free and California living, Sofia wants to plan her own flow, then go with it. "Most think of life's flow as a leaf floating down a river. We are actually white-water rafters."